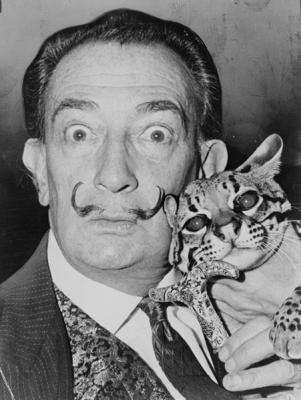 Salvador Domingo Felipe Jacinto Dalí i Domènech, 1st Marquis of Púbol (May 11, 1904 – January 23, 1989) was a Spanish Catalan surrealist painter born in Figueres.
Salvador Domingo Felipe Jacinto Dalí i Domènech, was born on May 11, 1904, at 8:45 a.m. GMT[5] in the town of Figueres, in the Empordà region, close to the French border in Catalonia, SpainIn 1922 Dalí moved to Madrid to study at the residence of students [3] and studied at the Real Academia de Bellas Artes de San Fernando.
In 1924 a still unknown Salvador Dalí illustrated his first book, "The Witches of Llers"
Dalí was expelled from the Academy in 1926, shortly before their final examinations, after stating that nobody at the Academy was competent enough to examine it. [8].
Dalí was left to grow a mustache extravagant that became an icon himself, influenced by the Spanish painter Diego Velázquez seventeenth century.
Gala's death on 10 June 1982 caused the decay of Dali, which from that time constantly resentful of your health by removing themselves from living in the house of Cadaqués Portlligat Castle Púbol a fortification that the Dali had given to Gala.
Marta Garcia Solano